Collection:

Bracelets

We offer a wide range of stylish and unique bracelets to elevate your accessory game. From elegant pearl bracelets to sparkling diamond bracelets and gold options, we have something for every taste and occasion. Browse our selection of bracelets online and find the perfect piece to complete your look. Whether you're looking to buy a silver bracelet, a gold bracelet, or a gemstone bracelet, we have something for everyone. Shop our collections now and find the perfect bracelet for you.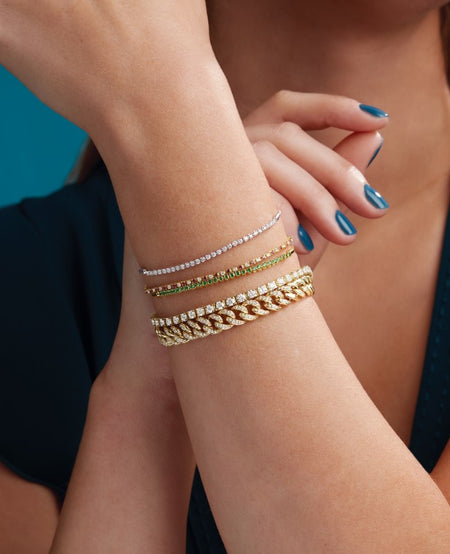 Popular Bracelet Trends
A popular bracelet trend currently in the market are stackable bracelets. Mix and match different styles and materials to create a unique and personalized look. Our collection features a variety of stackable bracelets in silver, gold, and even colorful gemstones.
Bracelet FAQ's
How do you clean and keep your bracelets?

To clean and maintain your bracelets, it is important to follow the specific care instructions provided by the manufacturer. In general, it is recommended to use a soft cloth or brush to gently clean the surface of the bracelet. Avoid using harsh chemicals or abrasive materials, as these can damage the piece. It is also a good idea to store your bracelets in a safe, dry place to protect them from damage.
Can you wear bracelets everyday?

Yes, you can absolutely wear bracelets every day! In fact, many people choose to do so as a way to add a personal touch to their everyday outfits. Just be sure to choose pieces that are comfortable and durable enough to withstand daily wear.
What hand should a woman wear a bracelet?

There is no hard and fast rule about which hand a woman should wear a bracelet on. In general, it is common to wear bracelets on the non-dominant hand, but ultimately it is a matter of personal preference.
Do bracelets make you look more attractive?

Bracelets can certainly add a touch of style and elegance to any outfit and may make you feel more attractive as a result. However, it is important to remember that attractiveness is subjective and ultimately depends on your own personal style and confidence.
What is the ideal bracelet size?

The ideal bracelet size will vary depending on the specific piece and your personal preferences. Some people prefer a snug fit, while others prefer a looser fit. To determine the best size for you, it is a good idea to measure your wrist and compare it to the size chart provided by the manufacturer.
How do I know if my bracelet fits?

To determine if a bracelet fits, try it on and see how it feels on your wrist. A bracelet that is too small may feel uncomfortable or restrict movement, while a bracelet that is too large may slip off or feel loose. If the bracelet feels comfortable and stays in place, it is likely a good fit.