Collection:

Diamond Studs

Welcome to Rollen, your go-to destination for high quality and ethically sourced jewelry. Our selection includes a wide range of diamond stud earrings for women, including classic diamond studs and unique lab-grown diamond styles. We also offer a variety of carat sizes, from half carat diamond studs to larger sizes. Shop now to find the perfect piece for yourself or as a gift for a loved one. Don't forget to check out our current sale on select diamond studs, and enjoy free shipping on all orders when you buy diamond studs online with us.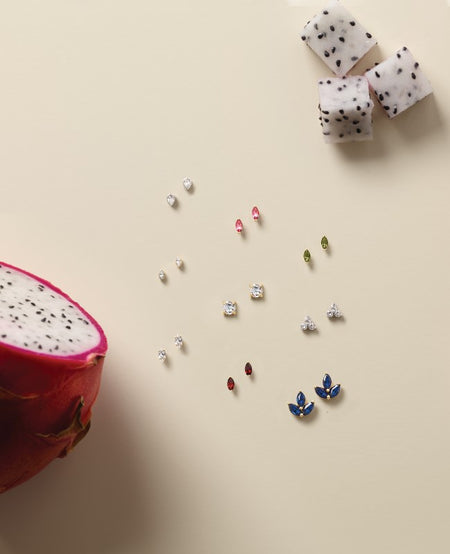 Popular Diamond Stud Trend
One trend that is gaining popularity is colored diamond studs. While traditional diamond studs are usually clear or white, colored diamond studs add a pop of color to your look. We have a selection of colored diamond and gemstone studs available, including pink, red, and blue.
Diamond Stud FAQ's
Can we wear diamond stud daily?

Yes, diamond stud earrings are a versatile and timeless choice that can be worn daily. They are a classic and stylish accessory that can be dressed up or down, depending on the occasion.
What shape diamond stud earring is best?

The best shape for diamond stud earrings depends on your personal preference. Some popular shapes include round, princess, and cushion cuts. Ultimately, the best shape is one that you love and feel comfortable wearing.
What to look for when buying diamond studs?

When buying diamond stud earrings, there are a few things to consider. First, you should look for a reputable seller and make sure the diamonds are ethically sourced. You should also consider the 4 C's of diamonds: cut, color, clarity, and carat weight. The cut, color, and clarity of the diamonds can affect their overall appearance and value. The carat weight refers to the size of the diamonds, and can affect the price.
What size diamond stud is best?

The best size for diamond stud earrings depends on your personal preference and budget. If you're looking for a more subtle and understated look, half carat diamond studs are a great size. For a more dramatic look, you may want to consider one carat or two carat diamond studs. Ultimately, the best size is one that you feel comfortable wearing and that fits within your budget.
How do you keep diamond studs from drooping?

Diamond stud earrings can sometimes droop or shift if the earring backs are not secure. To prevent this, it's important to use earring backs that are the appropriate size and fit properly. It's also a good idea to check the tightness of the earring backs regularly to ensure they are secure.
Are lab-grown diamond stud earrings considered to be less valuable than natural diamond stud earrings?

No, lab-grown diamond stud earrings are not considered to be less valuable than natural diamond stud earrings. They are chemically and physically identical to natural diamonds, and are graded using the same standards. While natural diamonds may be considered more rare and therefore more valuable, lab-grown diamonds offer an excellent value for the price and have a lower environmental impact.