Collection:

Charms + Beads

Welcome to our charms collection! We offer a wide range of stunning charms that are sure to complement any jewelry collection. Our selection includes elegant gold charms, sophisticated sterling silver charms, colorful gemstone charms, and stylish diamond charms. Whether you're looking for the perfect gift or just want to treat yourself, our online shop is the perfect place to buy charms online. We have something for every taste and style, so take a look and find the perfect charm today!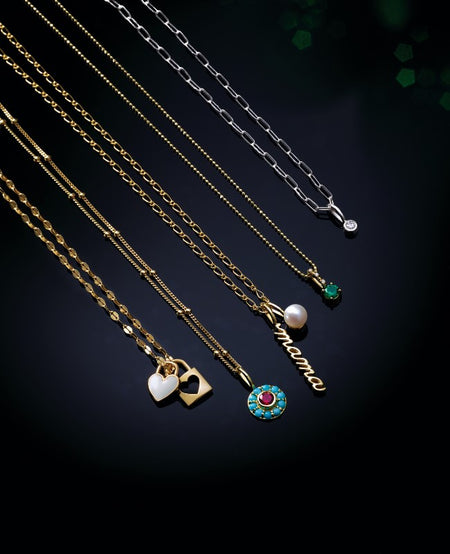 Popular Charm Trends
Charms are a popular and versatile addition to any jewelry collection. One of the hottest trends in charms right now are unique ladies charms and women's charms that feature colorful gemstones and intricate designs. From dainty and understated to bold and statement-making, we have something for every taste and style.
Charms FAQ's
What is the meaning behind collecting charms?

Collecting charms is a way to tell a story or mark a special moment. Each charm can represent a different memory, milestone, or personal interest. Charm collecting has been a popular tradition for centuries, and it allows individuals to create a unique and personal piece of jewelry that reflects their own experiences and interests. Charms can be added to bracelets, necklaces, and even earrings, to create a one-of-a-kind piece that is truly special.
What are charms in jewelry?

Charms are small decorative ornaments that can be added to a piece of jewelry, such as a bracelet or necklace. Charms can be made from a variety of materials, including gold, silver, diamond, and gemstone , and come in a wide range of styles and designs. Some charms have a symbolic meaning or represent a special occasion, while others are chosen for their aesthetic appeal.
How many charms should a charm bracelet have?

There is no set number of charms that a charm bracelet should have. It is completely up to the individual to decide how many charms they want to add to their bracelet. Some people prefer a more minimal look with just a few charms, while others like a more full and ornate bracelet with many charms.
What are the types of charm?

There are many types of charms to choose from, including charms made from different materials (such as gold, silver, diamond and gemstone) and charms in a variety of styles and designs. Some charms have a symbolic meaning or represent a special occasion, while others are chosen for their aesthetic appeal. Charms can also be personalized with a name, initials, or special message.
How do you take care of charm bracelets?

To take care of your charm bracelet, you should avoid exposing it to water or harsh chemicals. You should also store it in a safe place, such as a jewelry box, to prevent it from getting damaged. If you need to clean your charm bracelet, you can use a soft cloth and a mild soap and water solution to gently wipe away any dirt or grime. Avoid using harsh cleaning products, as these can damage the metal or gemstones on your bracelet. If you are not sure how to properly care for your charm bracelet, you can consult a professional jeweler for advice.
What are some unique ways to use charm pendants?

Charm pendants are a versatile jewelry item that can be used in many different ways. Here are a few unique ways to use them:

1. Layer them with other necklace styles: Layer charm pendants with different length chains and styles to create a personalized and dynamic look.
2. Use them as part of a charm bracelet: Charm bracelets are a classic way to collect and display charm pendants.
3. Add them to a keychain: Attach a charm pendant to a keychain for a unique and personal touch to your keys.
4. Use them as a bag charm: Attach a charm pendant to your handbag or purse for a fun and stylish accessory.
5. Incorporate them into your hairstyle: Add a charm pendant to a hair tie or bobby pin for a unique and stylish hair accessory.
6. Use them as an earring: Charm pendants can be used as earrings by attaching them to earring hooks.
7. Use them as a brooch: Pin a charm pendant to a jacket, scarf, or bag for a unique and unexpected way to use them.
8. Use them as a home decor: You can use a charm pendant as a home decor by attaching them to a lamp or vase to give it a personal touch.

Overall, the options are endless when it comes to incorporating charm pendants into your style. Be creative and have fun with it!