Collection:

Diamond Bands

Our collection of diamond bands offers the perfect combination of style and quality. Each band is handcrafted by expert jewelers using only the finest materials. From classic styles to modern designs, we have a band to suit every taste and occasion. Our diamond bands are not just a piece of jewelry, they are a symbol of your love and commitment. Each band is crafted with the highest quality materials and attention to detail. We use only ethically sourced diamonds to ensure that every band is not only beautiful but also socially responsible. With a wide range of styles, colors and materials to choose from, you are sure to find the perfect diamond band for your special someone. Shop our collection today and experience the beauty and elegance of our diamond bands.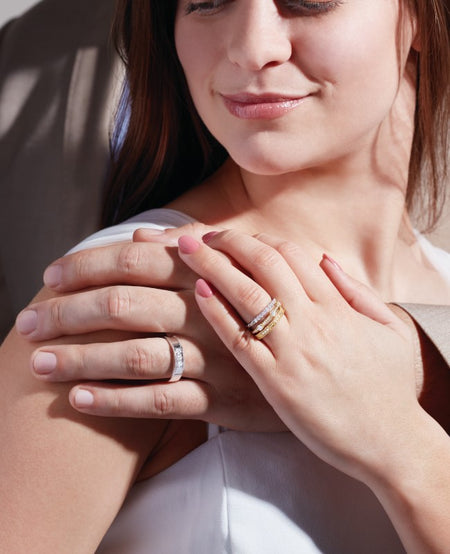 Popular Diamond Band Trends
Diamond bands are a timeless and elegant choice for any jewelry collection. They are perfect for engagements, weddings, and anniversaries, but can also be worn as a stylish everyday accessory. Recently, there have been a few key trends in diamond band styles that are particularly popular.
One trend that has been gaining popularity is the stackable diamond band. These bands are thin and dainty, and can be worn alone or stacked with other bands for a unique and personalized look. We have a wide variety of stackable diamond bands in our collection, from simple and classic bands to more modern and intricate designs.
Diamond Bands FAQ's
What materials are used to make your diamond bands?

Our diamond bands are crafted from the finest quality materials, including precious metals such as gold, white gold, rose gold, titanium and platinum.
What types of diamond bands are available?

Our collection includes stackable diamond bands, eternity bands, and colored diamond bands. We also have a variety of styles available, including simple and classic bands, modern and intricate designs, and vintage-inspired bands.
Are there colored diamond bands?

Yes, we offer colored diamond bands in a variety of colors, such as yellow, pink, red, and blue.
How should I care for my diamond band

To keep your diamond band looking its best, it's important to clean it regularly and store it in a safe place. Avoid exposing it to harsh chemicals or excessive heat, and remove it when doing activities that may cause damage.
What are some popular trends in diamond bands currently?

Some popular trends in diamond bands include stackable bands, eternity bands, and colored diamond bands.
How do I choose the right style of diamond band?

Consider your personal style, the occasion for which you're buying the band, and the color, quality and size of diamonds that you prefer. We offer a wide range of options to choose from.