Collection:

Lockets

Our collection of lockets is curated to offer a wide range of styles, materials, colors, and types to choose from. Whether you're looking for a simple and elegant locket, or a more elaborate and ornate piece, we have something to suit every taste. Our lockets are made of high-quality materials such as gold, silver, and rose gold, ensuring that they are durable and long-lasting. Each of our lockets is handcrafted with care and attention to detail, and are sourced ethically to ensure that you can wear your jewelry with pride. We also offer a wide variety of styles, including vintage, personalized, and gemstone-studded lockets. With a locket from our collection, you can keep your loved ones close to your heart while making a statement with your jewelry.
Regular price

Sale price

$1,375.00

Unit price

per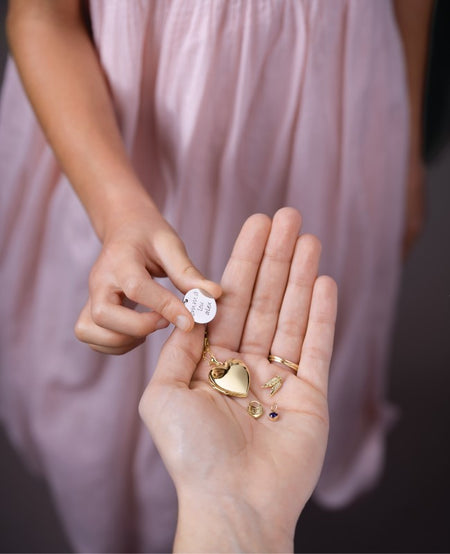 Popular Locket Trends
Locket jewelry is a timeless and classic accessory that has been popular for centuries. Today, locket jewelry is still a popular choice among fashion-conscious individuals, and there are many new trends and styles to choose from. One popular trend is the use of unique and intricate designs, such as filigree and engraving. Another trend is the use of different color metals like white gold, rose gold, and yellow gold, to add an elegant touch to the locket.
Lockets FAQ's
How can I keep my locket from breaking?

To keep your locket from breaking, we recommend storing it in a dry place and avoiding exposing it to water. It is also important to handle your locket with care and avoid pulling on the chain or opening and closing the locket too roughly.
What is the purpose of lockets?

Historically, lockets were used to hold a small photo or a lock of hair of a loved one close to the heart. Today, lockets are worn for both sentimental and fashion reasons. They can be used to hold a small photo, a small object or nothing at all, and can be worn as a necklace, a brooch, or even a keychain.
What can you do with a locket?

A locket can be worn as a necklace, a brooch, or even a keychain. You can also customize it by adding a photo of a loved one, a small object, or engraving it with a special message.
Who are lockets popular amongst?

Lockets are popular amongst people of all ages and genders. They are a timeless piece of jewelry that can be worn on any occasion. Lockets are also popular as a gift for loved ones as it holds sentimental values.
How do I fix a broken locket?

If your locket is broken, we recommend taking it to a jeweler for repair. A jeweler can assess the damage and determine the best course of action. In some cases, the locket may be able to be repaired, and in others, it may need to be replaced.
How do I maintain my locket jewelry?

To maintain your locket jewelry, we recommend storing it in a dry place and avoiding exposing it to water. You can also clean your locket with a soft cloth to remove any dirt or tarnish. It is also recommended to have your locket inspected by a professional at least once per year to ensure longevity