Collection:

Metal Jewelry

Our metal jewelry collection offers a wide variety of pieces to suit every style. From classic to contemporary, we have something for everyone. Each piece is made from high-quality materials and ethically sourced, ensuring durability and longevity. Our collection includes necklaces, bracelets, earrings, and more, all made with care and attention to detail. Whether you're looking for a statement piece or an everyday accessory, we have something for you. Our metal jewelry comes in a variety of colors and styles, so you can find the perfect piece to elevate your look. Discover the beauty of unique and one-of-a-kind designs and experience the quality of ethically sourced metal jewelry.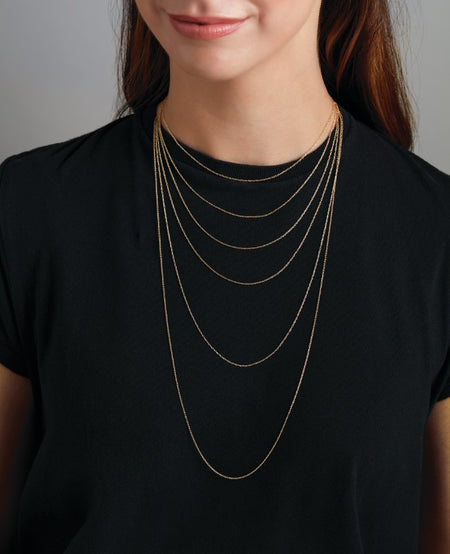 Popular Metal Jewelry Trends
A popular trend in metal jewelry that has been gaining popularity in recent times is stackable chain necklaces of different lengths. This trend is all about layering different chains of varying lengths, creating a unique and personalized look. This style is perfect for those who want to experiment with different looks and create a layered and textured look.
Stackable chain necklaces come in a variety of styles, materials, and lengths, and they can be worn together or separately. You can mix and match different chains, including dainty chains, chunky chains, and chains with pendants to create a unique and personalized look. The great thing about stackable chains is that you can have a different look every time you wear them.
Metal Jewelry FAQ's
What materials are commonly used in metal jewelry?

Metal jewelry can be made from a variety of materials, including gold, silver, platinum, titanium, tungsten, stainless steel, and palladium. The most common metal used in metal jewelry is stainless steel, gold, silver, and titanium.
What are the popular styles of metal jewelry?

Popular styles of metal jewelry include classic, vintage, and contemporary. Classic styles are timeless and tend to be understated, while vintage styles often feature intricate details and patterns. Contemporary styles are modern and often feature bold designs and colors.
How can I determine the quality of metal jewelry?

To determine the quality of metal jewelry, you should look at the weight, craftsmanship, and attention to detail. Look for signs of wear and tear such as scratches, dings, and tarnish. Additionally, check the authenticity of the product and check if it's been ethically sourced.
How can I maintain my metal jewelry?

To maintain metal jewelry, it's important to keep it clean and store it properly. Jewelry should be wiped clean with a soft cloth after each wear. Avoid exposing jewelry to chemicals and water, and store it in a cool, dry place.
How can I tell if my metal jewelry is authentic?

To ensure that your metal jewelry is authentic, it's important to purchase from a reputable retailer. Look for certifications of authenticity or a guarantee of authenticity from the seller. Additionally, you can look for hallmarks, stamp, labels, and other signs of authenticity.
What are the popular metal jewelry trends?

Popular metal jewelry trends include minimalist, statement, and layered styles. Minimalist styles are simple, understated, and often feature clean lines and a single gemstone. Statement styles are bold and make a statement, often featuring large or unusual gemstones or designs. Layered styles are popular and feature multiple chains or bracelets worn together.