Collection:

Moissanite Jewelry

Our collection of moissanite jewelry offers a brilliant and fiery alternative to traditional diamonds. Ethically sourced and of the highest quality, our moissanite gemstones are available in a variety of types, including rings, earrings, necklaces, bracelets, and pendants. Choose from a range of styles and materials, including white, yellow, and rose gold. Experience the luxury of moissanite jewelry at an affordable price. With a brilliance and fire that rivals that of diamonds, moissanite jewelry is a timeless and elegant choice for any occasion. Whether you're looking for a statement piece or a classic addition to your jewelry collection, we have the perfect moissanite jewelry for you.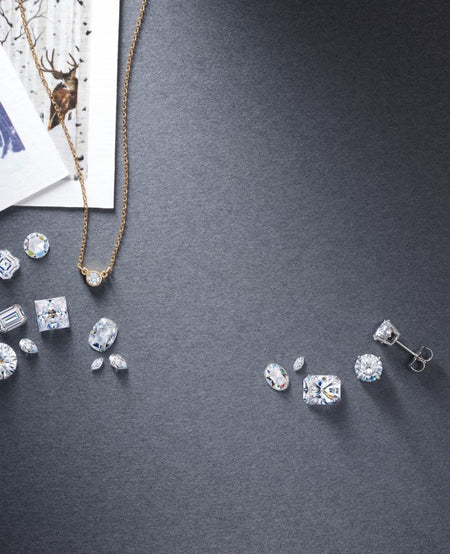 Popular Moissanite Jewelry Trends
Moissanite jewelry is a popular choice among customers looking for a stunning and affordable alternative to diamonds. The market is currently seeing a trend towards minimalist and dainty moissanite jewelry, such as solitaire pendants and delicate stud earrings. Customers are also gravitating towards rose gold metal settings, which add a touch of warmth to the sparkling moissanite stones.
Our collection offers a wide range of moissanite jewelry options for customers to choose from. For those looking for a timeless and elegant look, we suggest trying our classic moissanite solitaire ring, set in white gold. This ring is perfect for any occasion, from an engagement to a special birthday. If you're looking for something more unique, our moissanite halo pendant necklace in rose gold is a great option. The halo of diamonds surrounding the moissanite center stone adds an extra layer of sparkle and glamour.
Moissanite Jewelry FAQ's
What is moissanite and how is it different from diamonds?

Moissanite is a naturally occurring mineral made of silicon carbide. It is known for its stunning brilliance and fire, which is similar to diamonds. It is a popular alternative to diamonds as it is more affordable and ethically sourced.
What are the different types of moissanite jewelry available?

We offer a wide variety of moissanite jewelry options, including rings, earrings, pendants, and bracelets. We also offer different styles, such as solitaires, halos, and three-stone settings in a variety of metal colors from white gold, yellow gold, and rose gold.
How can I determine the quality of moissanite jewelry?

The quality of moissanite can be determined by considering the carat weight, cut, and color of the stone. A higher carat weight will result in a larger and more striking stone, while a good cut will ensure maximum sparkle and brilliance. The color of moissanite can range from colorless to yellow, with colorless being the most desirable. Our collection features only top-quality moissanite with excellent cut and color.
How should I care for my moissanite jewelry?

To keep your moissanite jewelry looking its best, you should avoid exposing it to harsh chemicals, extreme temperatures, and ultrasonic cleaning. Clean your moissanite jewelry with warm water and a mild soap, and dry it with a soft cloth. You should also store your moissanite jewelry in a soft pouch or a jewelry box to protect it from scratches.
Is moissanite jewelry ethically sourced?

Yes, our moissanite is ethically sourced and is not involved in any illegal or unethical mining practices.
Why is your moissanite jewelry better than the rest?

There are several reasons why our moissanite jewelry is superior to others on the market:

1. Quality: We take great care to ensure that all of our moissanite jewelry is made with high-quality materials and is crafted with attention to detail. We are confident that you will be satisfied with the quality of our jewelry.
2. Variety: We offer a wide range of moissanite jewelry, including necklaces, earrings, bracelets, rings, and more. We have a variety of styles to choose from, including dainty and delicate pieces, statement pieces, and those with a vintage feel.
3. Affordable prices: We strive to offer our customers the best value for their money. Our moissanite jewelry is reasonably priced and we offer special promotions and discounts regularly.
4. Ethical sourcing: We take great care to ensure that all of our moissanite jewelry is ethically sourced. We only work with suppliers that meet our strict standards for ethical sourcing and we take great care to ensure that our materials are mined, cut, and polished responsibly.
5. Customer service: We pride ourselves on our exceptional customer service. Our friendly and knowledgeable staff is always happy to assist you with any questions or concerns you may have about our moissanite jewelry.
6. Popular trends: We are constantly researching the current market trends and updating our collection with the latest and popular styles, materials and colors.
7. Personal touch: We offer a personal touch to our moissanite jewelry by giving the options of customizing the jewelry to suit the customers need.