Collection:

Negative Space

Our negative space jewelry collection is the perfect combination of minimalism and glamour. Each piece is handcrafted with precision and care, using high-quality materials such as gold, silver, and precious stones. Our collection offers a wide range of styles, from simple and elegant to bold and unique shapes, perfect for any occasion. We also ensure that our jewelry is ethically sourced and responsibly made. Discover a variety of colors and materials, including rose gold, white gold, and diamonds. We are proud to offer a wide range of negative space jewelry designs, from classic to on-trend styles, so you can find the perfect piece for yourself or as a gift for a loved one. Browse our collection today and discover the beauty of negative space.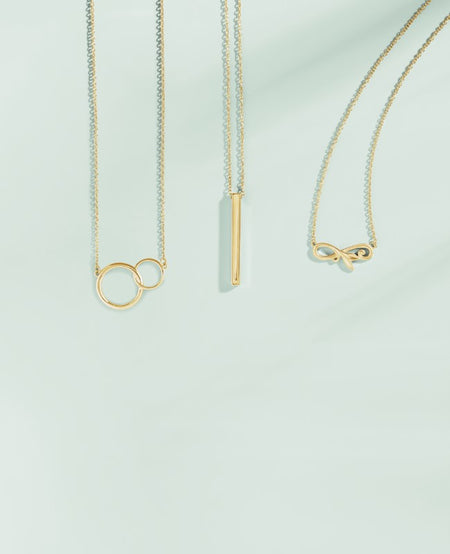 Popular Negative Space Jewelry Trends
Negative space jewelry is a popular trend in the jewelry market, featuring clean lines and unique designs that make a bold statement. This type of jewelry is characterized by the use of negative space, or the empty areas around the design, to create a minimalist and modern look. Our collection features a wide variety of negative space jewelry, including rings, earrings, necklaces, and pendants.
One popular trend in negative space jewelry is geometric shapes. These shapes, such as triangles and circles, add a modern and edgy touch to any outfit. Another trend is the use of contrasting materials, such as pairing gold with black or white to create a striking visual effect.
Negative Space Jewelry FAQ's
What is negative space jewelry?

Negative space jewelry is a type of jewelry that incorporates the use of empty or negative space in its design to create a minimalist and modern look. It typically features clean lines and unique designs.
What types of negative space jewelry are available?

Our collection includes a wide variety of negative space jewelry, including rings, earrings, pendants, and necklaces.
What materials are used in negative space jewelry?

We use only the finest materials, such as gold, sterling silver, and high-quality gemstones in our negative space jewelry to ensure quality and durability.
How should I care for my negative space jewelry?

To maintain the quality and appearance of your negative space jewelry, it is important to clean it regularly with a gentle jewelry cleaner and store it in a dry, safe place. Avoid exposing it to water, chemicals, and extreme temperatures.
Does negative space jewelry have a meaning?

Negative space jewelry can symbolize different things depending on the individual wearer and the specific design. Some people may find it to be a representation of minimalism and simplicity, while others may see it as a symbol of modernity and uniqueness.
Is negative space jewelry expensive?

The cost of negative space jewelry can vary depending on the materials used, the complexity of the design and the brand. Some of our pieces are affordable and others may be considered as luxury jewelry, but in general, it is not considered to be as expensive as other types of jewelry.