Collection:

Pearl Jewelry

Our pearl jewelry collection offers a wide variety of styles and designs to suit any taste. Our pieces are expertly crafted from high-quality materials such as freshwater and Akoya pearls. We pride ourselves on sourcing our pearls ethically, ensuring that each piece is not only beautiful, but also responsibly made. Our collection features everything from elegant pearl necklaces and bracelets to stylish earrings and rings. Whether you're looking for a timeless piece to wear every day or a special occasion, you'll find it here. We also have different color options available to match any outfit. Each piece is unique and perfect for any occasion. Shop now and experience the beauty of pearl jewelry for yourself.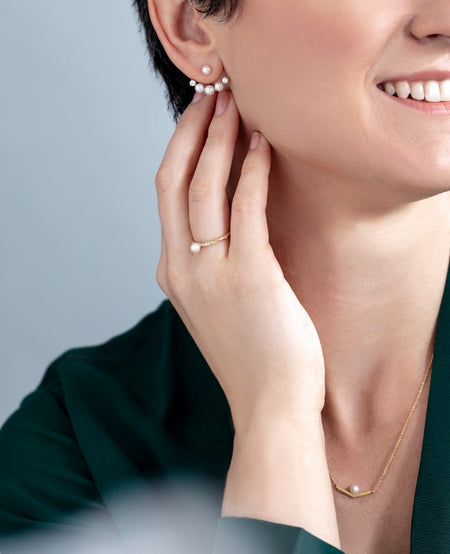 Popular Pearl Jewelry Trends
Pearl jewelry is a timeless classic that has stood the test of time. With their natural beauty and elegance, pearls have always been a popular choice for jewelry. Today, pearl jewelry is making a big comeback as a trendy and fashionable accessory that can add a touch of class and sophistication to any outfit. One of the most sought-after pearl jewelry trends is the use of freshwater pearls, which are known for their unique shapes and iridescent colors. Another trend is the combination of pearls with other materials such as gold, diamonds, and semi-precious stones to create unique and modern pieces.
There are many different types of pearl jewelry, from classic pearl necklaces and earrings to more modern designs that feature pearls in unexpected ways.
In our collection, we have a wide range of pearl jewelry that can cater to different occasions and styles. From classic pearl studs to trendy pearl chokers, and from simple pearl rings to statement pearl earrings.
Pearl Jewelry FAQ's
How do I determine the quality of pearl jewelry?

Look for pearls with bright and reflective luster, smooth and blemish-free surfaces, and well-formed and symmetrical shapes. It's also important to examine the quality of the metal used to make the jewelry. Our pearls are handpicked and only the best quality is selected for our collection.
How do I take care of my pearl jewelry?

Pearls should be stored separately from other jewelry to avoid scratches and damage. They should also be kept away from direct sunlight and heat. Avoid wearing pearl jewelry when applying lotions, perfumes, or hairspray as these can damage the pearl's surface. Clean your pearl jewelry with a soft cloth and mild soap and water.
What is the most popular color for pearls?

White pearls are the most classic and traditional color, but other popular colors include black, pink, and golden pearls.
Do pearls break easily?

Pearls are relatively durable, but they are still a delicate and natural material. It is important to handle and store them with care to avoid damage. They should be protected from scratches and impacts, and it is important to take care of them by cleaning them regularly and storing them properly.
Are pearls expensive?

Pearl prices can vary greatly depending on factors such as pearl type, size, quality, and the materials used in the jewelry. Cultivated pearls tend to be less expensive than natural pearls, but they can still be quite valuable.
How do I know if my pearls are authentic?

There are several ways to determine if pearls are authentic. A professional jeweler can examine them for characteristics such as luster, surface, and shape. Pearls can also be tested for authenticity using a pearl density tester or a microscope.