Collection:

Women's Wedding Bands

Our collection of women's wedding bands is unmatched in quality and style. We offer a wide variety of bands to suit your individual taste, including diamond, gold, silver, rose gold, and platinum bands. Our bands come in a range of styles, colors, and finishes, including traditional and modern designs. We pride ourselves on sourcing our materials responsibly and all of our bands are crafted with care by skilled artisans. Whether you're looking for a symbol of your love and commitment or a timeless piece of jewelry, we have the perfect band for you. Shop our collection today and find your perfect match!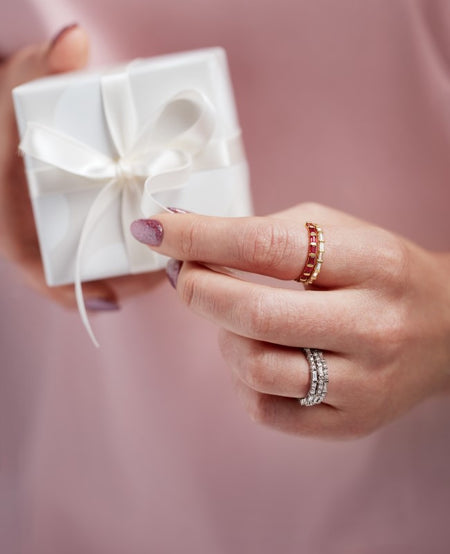 Popular Women's Wedding Band Trends
Wedding bands are a symbol of eternal love and commitment, and choosing the perfect ring for your special day can be a daunting task. However, with the latest trends and styles in women's wedding bands, the options are endless. One of the hottest trends in the market is the stackable wedding band. These bands can be worn alone or stacked together to create a unique and personalized look.
Women's Wedding Bands FAQ's
What types of women's wedding bands are available?

There are a wide range of styles, including classic solitaires, vintage-inspired designs, modern geometric shapes, stackable bands, and mixed metal color bands. Our collection features lab-grown and ethically sourced diamond and gemstones. We also offer unique materials such as wood, moissanite, and recycled metals for a more eco-friendly option.
What materials are used for women's wedding bands?

Our wedding bands are crafted from high-quality materials such as gold, silver, platinum, titanium, and a variety of colored gemstones. We also offer eco-friendly options such as recycled metals.
How do I choose the right style of wedding band?

We suggest considering your personal style, daily wear and lifestyle, and the overall aesthetic of your engagement ring when choosing a wedding band. Whether you are looking for something subtle or a statement piece, we have the style for you.
How do I care for my wedding band?

We recommend regular cleaning and maintenance to keep your ring in top condition. Avoid exposing your ring to harsh chemicals and extreme temperatures, and store it in a secure place when not wearing it.
How can I ensure the authenticity of my wedding band?

All of our wedding bands are crafted by skilled artisans using only the highest quality materials. Each wedding band is carefully packed and delivered with custom packaging.
What are some popular trends in women's wedding bands?

Popular trends include stackable bands, mixed metal bands, and unique materials such as wood and moissanite. Colored gemstones and diamonds are also becoming more popular for those looking for a pop of color.